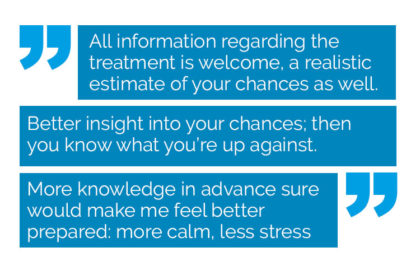 Imagine, you are trying to have a baby, haven't been succesful for quite some time, and decide to start IVF treatment. You are entering a stressful period of examinations, taking hormones and insecurity about a positive outcome. Having a better insight into your chances, isn't that something everyone would like to have? Would you also be prepared to take an extra test? And we had more questions of that kind. We decided to simply ask.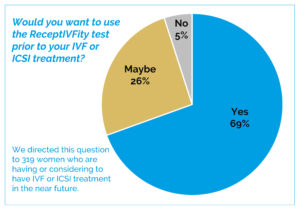 In close collaboration with Freya we conducted an online survey at the start of 2018. Over 500 Dutch women were kind enough to share their opinions with us. We started out by explaining them what the ReceptIVFity test is all about and what the possible results are. Then it was their turn: what did they think and how did they feel about it? Seven out of ten women (who were planning or considering to have  IVF / ICSI treatment in the near future) would like to take the test. Another 26% said 'maybe'.  A mere 5% indicated to have no interest at all.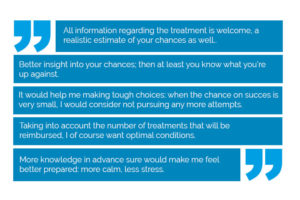 Main reason to be interested to take the test is the gain of extra insight into your chances. We heard women say "A realistic insight into you chances" and "It would give me some peace of mind" to illustrate their opinion. Others would like to be able to optimize their timing (and to make a better informed choice whether to postpone the treatment when chances of succes are low). Some even state not to go ahead with the heavy and stressful procedures if the chances of succes turn out to be very small. 
The ReceptIVFity test can result in three different scores; high, medium and low. When the test results in a low score, the chances of getting pregnant are around 6%. We asked women who are interested in taking the test: what then? What would you do in the case of the test giving you a low score? More than a third (37%) would still go ahead with the treatment in that situation. The rest (63%) would postpone IVF treatment for the time being (and a few would consider not to go through with it at all).
The ReceptIVFity test costs €363 and is not being reimbursed by health insurers at this moment. What do women think about that? Almost everyone (94%) feels that the test should be part of the standard IVF health insurance package. 71% is willing to pay extra for this coverage (i.e. purchase a supplementary insurance package). Four out of ten women (39%) would be willing to pay the costs out of their own pocket.
In the meantime, the test is available in several fertility clinics. Questions about the test? On our website Receptivfity.com you can find all info. You may also want to check out the FAQ. When you have specific questions about the survey, you can contact us at all times.